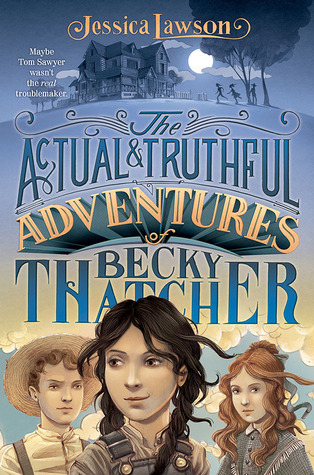 age range: 8-12
setting: 1860 Missouri; retelling of Tom Sawyer
"The deliciously impetuous, devilishly clever, and uncommonly brave Becky Thatcher is now one of my all-time favorite heroines, and I'm desperate to follow her on more adventures. Captivating, exciting, and great barrels-full of fun, this is a book to adore."
– Anne Ursu, author of The Real Boy and Breadcrumbs
A delightfully clever debut."
– Publishers Weekly, starred review
"Young readers will race through this adventure, while teachers and adults will delight in its gold mine of creative parallels."
– BookPage
Please tell us about your book.
The Actual & Truthful Adventures of Becky Thatcher is part origin story, part retelling of Mark Twain's classic The Adventures of Tom Sawyer. Written from the perspective of Becky Thatcher, it takes the setting and many characters from Twain's beloved work and forms a new plot that puts Becky in the spotlight as she grapples with the after-effects of her brother's death and has adventures in his honor. Samuel Clemens (aka Mark Twain), who was actually a riverboat pilot on the Mississippi during the time of the novel (1860), makes several appearances and serves as a reminder that every writer's stories and characters have an origin.
What inspired you to write this story?
I've always admired the wit and wisdom of Mark Twain. His books are among the most treasured of my personal collection. The Adventures of Tom Sawyer caught my eye while I was dusting my bookshelf one day, and I found myself thinking about how, as a much younger reader, I had wanted nothing more than to run around with Tom Sawyer and Huck Finn, making mischief and having adventures. As I thought about the other characters, I considered the fact that I'd never really connected with Becky Thatcher. Why was that? Upon reflection, I think it was because Becky, an iconic female character in her own right, didn't get to embrace the same things/traits that the boys did. And although her actions and manner fit Twain's image of the character perfectly, they didn't really fit the girl I had been. So as an adult, I decided it could be fun to give Becky Thatcher an opportunity to embrace adventure and see what she did with it.
Could you share with readers a lesson learned while conducting research?
During my normal research process for historical fiction, one of favorite things to do is read old newspapers. Not only do I discover a sense of what sort of things were newsworthy, but I get a sense of language and culture. I also like to hunt down academic articles; for a recent Work-In-Progress, an internet search helped me find some article titles that sounded informative, intriguing, and pertinent to my setting/plot. I sent an email to the author, a professor at New York University's Irish House, explaining who I was and that I was hoping to get access to a few of his articles that were only published in a (very large, very expensive) anthology. I was so thrilled when he responded, attaching the requested articles and wishing me luck with my project. The lesson I learned is that people, even ones that may seem intimidating in skill level/profession, are nearly always willing to help. So ask. ☺
With my Becky Thatcher book, my research was fairly limited, concentrating mostly on finding biographical information about Samuel Clemens's life. I avoided close re-readings of Tom Sawyer until after I'd written several drafts to avoid any subconscious tendency to try to copy Twain's voice. I wanted any similarities in tone to come out naturally and not be forced.
What are some special challenges associated with retellings?
I wrote something several months ago about the nature of retellings and how such a large variety of approaches exist, making it difficult to establish "rules." But my personal guidelines for retellings always involve the following three things:
First, you should love the original work as written and have respect for the author. In my opinion, a retelling shouldn't be undertaken in order to "fix" something that the original author did wrong, but rather to bring fresh attention and a new perspective to a well-loved tale.
There must be at least one large twist. But the twist should be a playful/thoughtful/deliberate one that has meaning within the original elements, not just a random item. Know why you're changing a key element of the story and be confident in your reasoning.
Keep the heart of the original in mind and try your best to honor it. While my own retelling of The Adventures of Tom Sawyer alters personalities and changes plot elements, the themes of learning what it means to grow up and struggling with losing pieces of childhood are still there and are recognizable.

What topics does your book touch upon that would make it a perfect fit for the classroom?
I think the inclusion of historical figure Samuel Clemens could promote interesting classroom discussions on who the "real" Mark Twain was as a younger man and how writers form their stories.
Themes touched upon in my book are things that students deal with each day in both home life and school situations (morality, friendship, telling truth and lies, labeling people, decision-making, consequences of choices) as well as a couple of more personal, sensitive themes (loss and grieving).
Simon & Schuster was kind enough to put together a curriculum guide for the book as a standalone and also as a companion to both The Adventures of Tom Sawyer and The Adventures of Huckleberry Finn.