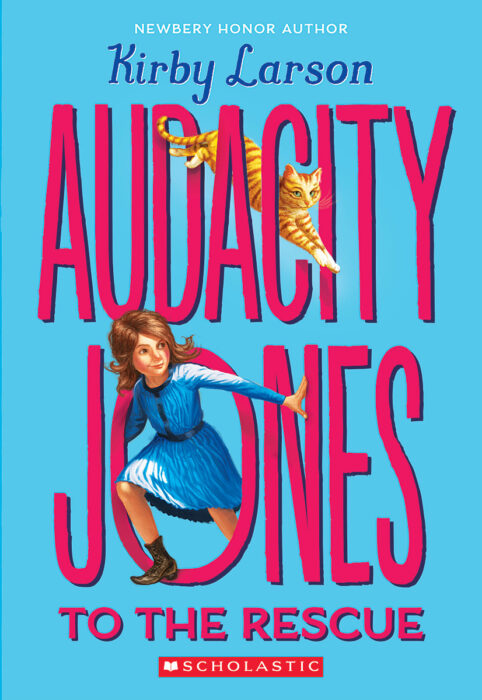 age range: 9-12 years
genre: historical fiction; mystery
Kirby Larson's website
First in a series, Larson's thriller deftly mixes humor, heart-pounding moments, and a strongly evoked historical setting-it's truly a story with something for everyone.
—Publishers Weekly, starred review
Newbery Honor author Larson's series starter is just the ticket for readers who crave adventure and mystery as much as 11-year-old Audacity Jones, an intrepid, well-read, positive-minded orphan. . .[the] story's themes of trust, friendship, and good manners will resonate with many. Audacity's charm and smarts make this historical adventure a winner.
— Booklist, starred review
Larson infuses her romp with plenty of humor…Clever, funny, and sweet in equal measures.
—Kirkus Reviews
Readers will cheer Audacity's ingenuity and bravery as they relish every moment of her adventures. Highly recommended.
—School Library Journal
Amazon Best Historical Fiction for Kids
Amazon Best Book of the Year
For years, Kirby Larson has tirelessly championed authors and their books through interviews on her blog and later on Instagram. It is such a pleasure to be able to return the favor today!
Kirby, please tell us about your book.
AUDACITY JONES TO THE RESCUE combines my love of mysteries with my love of history. It tells the story of an adventurous 11-year-old orphan who, with the help of a rag tag group of friends, thwarts a plan to kidnap President Taft's niece.
What inspired you to write this story?
Audacity herself! I was minding my own business working hard on the first novel for the Dogs of WWII series, DUKE, when a character tapped on my shoulder. She explained she was an 11-year-old orphan and that, like me, she loved to read adventure stories but what she really wanted was to go on an adventure. I explained politely that I was busy at work on another book and that she should please go away. She did not. In fact, she kept pestering me until I had to set DUKE aside to write twelve pages about her. Her insistence led me to name her Audacity.
The character and setting came together rather quickly but I did not have the key element of a novel – the problem. Luckily, I love reading old newspapers which is where I stumbled on an article from January 1911 reporting that President Taft's 12-year-old niece Dorothy had been kidnapped. It turned out there was no kidnapping, merely a mix-up over train schedules. But the seed was planted. I was certain that had Dorothy been kidnapped, Audie surely would've been the one to rescue her.
Could you share with readers how you conducted your research and / or share a few interesting tidbits about your writing process with this book? (You can re-write to suit your work.)
I am an avid researcher. Give me a dusty old archive and I am one happy writer! For this book, I sought out a recipe for President Taft's favorite soup (turtle!); I dug up the memoir of the White House housekeeper; I flipped through pages of old photos, letters, maps, and newspaper articles. It is extremely important to me to get as much information as possible so I can move my characters around the stage of their world in a confident and believable manner.
When I wrote my first historical novel, HATTIE BIG SKY, there weren't as many digitized materials as there are today. I had to travel to Montana (several times) to get the information I needed. With AUDACITY JONES TO THE RESCUE, I could get much of what I wanted from the comfort of my office, but I did travel to DC to spend a few days at the Historical Society there, as well as other places.
The funniest thing that happened while working on this book was the reply I received to my request for blueprints of the White House basement. It was briskly explained to me that such materials are not made available! I can only imagine what list I'm on now for asking that question as I did not think to clarify that I was looking for plans from 1910.
What are some special challenges associated with writing historical fiction?
One of the reasons I spend so much time conducting research is that I feel a huge responsibility to my young readers; I can't let them down. And I believe that if I am knowledgeable about a past time and place, my readers will sense that and feel comfortable going along with my character on her journey. That being said, I have a trusted friend read my early drafts because I don't want to bore my reader with each and every fascinating detail I've uncovered! I try very hard to remind myself that I am a storyteller first and foremost, not a textbook writer. No matter the genre, a writer can generally engage a reader by creating an intriguing character and giving her a larger-than-life problem to wrestle with. I've also learned that by including a cat (Miniver, in Audie's case) or a dog (in the case of the Dogs of WWII series), I can hook a history-averse reader into reading one of my books.
What topics does your book touch upon that would make it a perfect fit for the classroom?
Though I think of Audie's story as a romp – a book to read for a rollicking good time – it's a great fit for classrooms because it takes readers back to our nation's capital in the early part of the 20th century. There is not only information about the city at that time, there's information about the White House and those who worked there. I can imagine that the story would provoke discussion about what kind of information to trust, how things have changed for children and other groups since 1910, and it may even correct some myths about President Taft who, according to my research, never did get stuck in a bathtub.
Be sure to look for the sequel, Audacity Jones Steals the Show.