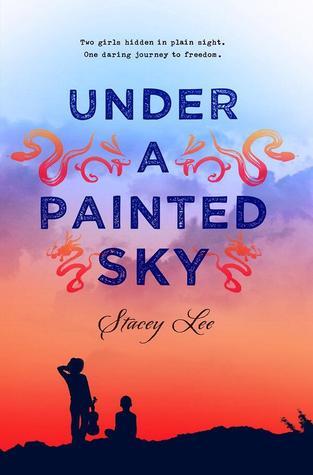 age range: 12 and up
setting: Missouri en route to California, 1849
Stacey Lee's website
High drama, tension, romantic longings, and touches of humor will entice historical fiction fans, and will be a perfect tie-in to social studies curriculum.
— School Library Journal
Please tell us about your book.
Missouri, 1849: Samantha dreams of moving back to New York to be a professional musician—not an easy thing if you're a girl, and harder still if you're Chinese. But a tragic accident dashes any hopes of fulfilling her dream, and instead, leaves her fearing for her life. With the help of a runaway slave named Annamae, Samantha flees town for the unknown frontier. But life on the Oregon Trail is unsafe for two girls, so they disguise themselves as Sammy and Andy, two boys headed for the California gold rush.
Sammy and Andy forge a powerful bond as they each search for a link to their past, and struggle to avoid any unwanted attention. But when they cross paths with a band of cowboys, the light-hearted troupe turn out to be unexpected allies. With the law closing in on them and new setbacks coming each day, the girls quickly learn that there are not many places to hide on the open trail.
An unforgettable story of friendship and sacrifice—perfect for fans of Code Name Verity.
What inspired you to write this story?
I'd always wondered what life in America was like when my ancestors arrived to California in the late 19th century. When I researched the history of Chinese in America, I learned that the bulk of the Chinese came during the western expansion and California Gold Rush. I don't speak Chinese myself, so I knew my heroine needed to have a full command of the English language. The story grew from there.
Could you share with readers how you conducted your research or share a few interesting tidbits you learned while researching?
I'm not a historian, so for me, every book begins with a trip to the library. There are plenty of online resources as well, but I seem to learn better when reading a hard copy. Also, I find the Children's section of the library to be invaluable for subjects I know nothing about. Children's books and videos break down the material into easy to understand chunks, not to mention, they're much more entertaining than the adult stuff.
What are some special challenges associated with writing historical fiction?
One challenge is understanding the geography of the area as it existed during a particular period in time. Cities can change a lot over a few years, and while I certainly believe in taking liberties, I like to know when I'm doing it. I'm starting quite a collection of antique maps and reproductions!
What topics does your book touch upon that would make it a perfect fit for the classroom?
The Oregon Trail and western expansion, slavery, Chinese American history, and the California Gold Rush, and last but not least, cowboys.