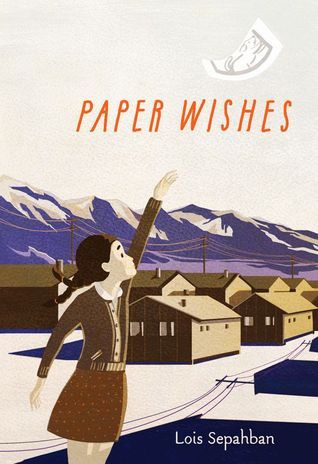 genre: historical fiction
setting: Manzanar, the Japanese internment camp, 1942
age range: 9-12
Lois Sepahban's website
A superior story of survival and love.
— School Library Journal, starred review
This historical debut speaks volumes of love and longing.
— Kirkus, starred review
Engrossing and heartrending historical fiction.
— Publisher's Weekly
Please tell us about your book.
Ten-year-old Manami did not realize how peaceful her family's life on Bainbridge Island was until the day it all changed. It's 1942, after the attack on Pearl Harbor, and Manami and her family are Japanese Americans at a prison camp in the desert. Manami is sad to go, but even worse is that they are going to have to give her dog, Yujiin, to a neighbor to take care of. Manami decides to sneak Yujiin under her coat, but she is caught and forced to abandon him. She is devastated but clings to the hope that somehow Yujiin will find his way to the camp and make her family whole again. It isn't until she finds a way to let go of her guilt that Manami can accept all that has happened to her family.
What inspired you to write this story?
My book takes place at Manzanar in 1942. From 1942-1945, it was an internment camp for Japanese-Americans, most of whom were children. I grew up in central California, and I had two classmates whose grandparents were Manzanar internees. My classmates' mom spoke to us a few times about her parents' experiences at Manzanar. So, by the time I was seven or eight years old, I was aware of Manzanar. I was too young to understand it, but having something of a personal connection to the camp made me curious to learn more. My research led me to so many heartbreaking and poignant stories, as well as some very strange ones. One strange story was in an newspaper article. The old man being interviewed said that at some point, dogs started showing up at the camp. No one knew where they were coming from or how they got there. When I read that article, I got goosebumps. Suddenly, I knew what my story would be. 
Could you share with readers how you conducted your research or share a few interesting tidbits you learned while researching?
Researching my book was a process that stretched over several years. It began, unintentionally, of course, in my childhood. Every time my parents drove past Manzanar on family trips or I listened to someone talk about Manzanar–these moments were layers of research that slowly built over time.
My curiosity really flamed to life in 2013 when I read Heather Lindquist's book The Children of Manzanar. For the next few months, I devoured Manzanar true stories. I found an archive of oral history video interviews with former internees on Densho.org. My research at that time was deliberate. I knew that I wanted to write a story set at Manzanar. I knew I wanted it to have a love story between an internee and a camp worker. I knew I wanted the story to be from the perspective of a little sister. So I focused my research on the areas that were important to these storylines. I looked at old maps. I read supply lists and building reports from 1942. I drove along Highway 395 in California and tried to imagine how it must have looked to eyes that saw it for the first time. It is a landscape of scrub brush and red dirt. Very different from the lush rainforest of the Pacific Northwest. I continued to research as I wrote–looking for details and facts as I needed them for the story. And I was fortunate that a historian at the Manzanar National Historic Site was willing to read the manuscript to check for historical accuracy.
What are some special challenges associated with writing historical fiction?
The real challenge is that you can't make certain things up in historical fiction. The characters, yes. The conversations, yes. Known historical events? Not so much. Writers do take liberties with history. I did. But I was careful to point out those liberties in the author's note. When I speak to groups about my novel, it is not uncommon for me to hear from attendees that they had never before heard about the internment of Japanese Americans during World War II. So I feel a great responsibility to honestly portray this history.
What topics does your book touch upon that would make it a perfect fit for the classroom?
My book is a good fit for 4th grade social studies in California, Oregon, and Washington because these were the states affected by the Exclusion Zone rule. It is a good fit for 5th grade and 8th grade social studies because it discusses U.S. history. This history applies to Canada, too, which also had Japanese internment camps during World War II.