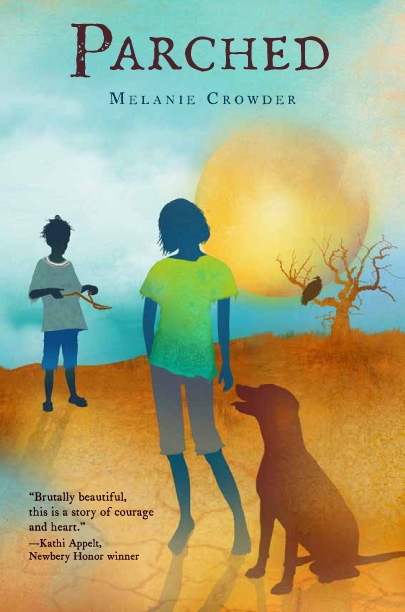 Silver Medal, Parent's Choice Awards
Junior Library Guild Selection
"A thrilling, imaginative soul quencher. Crowder's stunning debut is sure to become a modern classic."—Rita Williams-Garcia, Newbery Honor-winning author of One Crazy Summer
"Readers will want to tackle [this story] with a full water bottle on hand." —Bulletin of the Center for Children's Books, starred review
age range: middle grade
genre: eco-fable
teacher guide
Please tell us about your book.
Parched is a middle grade novel about a boy, a girl and her dog struggling to survive in a dangerous and drought-scarred land.  It's a slim volume in which the spare prose mimics the bleak setting.
What inspired you to write this story?
Parched began with a single image that appeared in my mind one day. It was an aerial shot, as if I were in a plane flying low over the savanna. On the ground below, a skinny girl and her pack of dogs walked along a narrow game track. I wanted to know who she was and how she had come to be all alone in such a harsh place. As I dug into the story, I discovered that there was a boy, too, also hurting and alone.  I knew they needed each other, but that trust was next to impossible for both of them.
Could you share with readers how you conducted your research or share a few interesting tidbits you learned while researching? 
I am amazed by how much research can go into a work of fiction! I spent weeks combing through information on geology, flora and fauna and childhood trauma. Then, of course, there's the fun stuff: biting into a horned cucumber to get that gooey, tart sensation, standing out in the rain and watching the droplets form and drip down a chain-link fence, and watching videos about
dowsing
(which is absolutely fascinating!)
What are some special challenges associated with writing an eco-fable?
Well, first, it's not a broad genre. Parched doesn't fit easily into any one familiar category. So where do you shelve a book like this? With the adventure stories? Next to the dystopian section? In the children's section or the teen section? Of course, my answer is, why not all of the above? ☺
Second, it's so easy for books that begin with an environmental crisis to slide into didacticism. But the best thing about reading is activating your imagination and forming your own opinions—I would never want to take that away from my readers. That said, I hope I have struck just the right balance so that Musa, Sarel and Nandi's story challenges my readers to think about some of these difficult issues.
What topics does your book touch upon that would make it a perfect fit for the classroom? 
Parched has natural tie-ins to science and social studies, and you can find a discussion guide for the book that explores many of these possibilities here. If I were a teacher, I would use the book as a springboard for projects in which students research an environmental issue facing their community and then develop service projects such as a stream clean-up day or a penny drive to raise money for a nearby wildlife rehabilitation center.
Kids have great ideas and I love to see their excitement translate into positive action in their world.
Giveaway
Melanie has donated a signed copy of Parched to give away. To enter, leave a comment below about something you learned in this interview. US and Canadian residents only, please. The contest closes Monday, June 1.
Update: Congratulations to Laura, our winner!