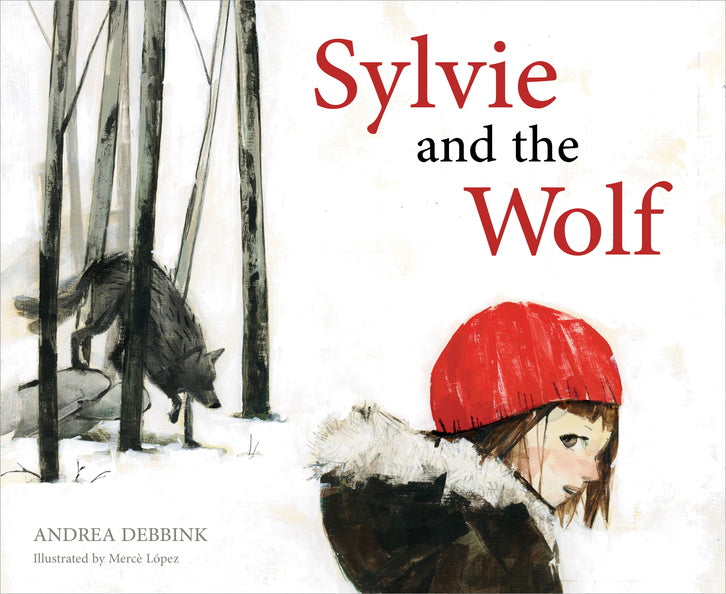 age range: 4-8 years
format / topics: picture book; fear and anxiety
Andrea Debbink's website
It's especially satisfying to share this interview today because I got to read an early draft of Sylvie through my Writing One to One critique service. How wonderful it is to see that draft become a finished book. Andrea, Please tell us more.
My picture book, SYLVIE AND THE WOLF, illustrated by Mercè López, is the story of a girl who has a fear that begins to control her life and makes her world small. With the encouragement of a loving aunt, Sylvie is finally able to confront her fear and learns that, instead of running or hiding, she can move forward and live alongside it.
What inspired you to write this story?
Sylvie's story is, at its heart, my own story. It was inspired by my own childhood experiences with fear and anxiety. When I was quite young, I experienced panic attacks that led to me developing obsessive compulsive disorder. Although I eventually received a diagnosis and began to get help, that didn't happen adulthood. As a result, I have deep empathy for people, especially children, who are dealing with anxiety in all its forms. I wrote this book to not only share my story but to pass on what I've learned about living alongside anxiety. I hope that it can create opportunities for conversations between children and their caregivers (including parents and teachers) about fear and courage. I want children who are dealing with anxiety to know they're not weird and they're not alone.
Could you share with readers a few interesting tidbits about your writing process with this book?
I started writing this book on a snowy day in January 2020. I live in Wisconsin where winters are cold, and I tend to get a little tired of winter weather after the holidays are over. But that year, our January snowstorms inspired me. As I wrote my manuscript, I began to imagine Sylvie's world as cold and snowy too, inspired by the weather outside and by Scandinavian folktales. I began to think of snowy days as "Sylvie weather." I love how Mercè López, the book's illustrator, captured that atmosphere in her illustrations. I think her artwork is magical.
This is also the first book I wrote that had its own playlist. I created a playlist of instrumental music that had the "feel" of the book I was hoping to write. Whenever I worked on the manuscript, I'd play the same music. It helped get me in the right headspace.
What are some special challenges associated with writing picture books?
I've written other books but most of them have been middle-grade nonfiction. Because this was my first picture book, I had a lot to learn. The first lesson I learned was word count! Even though I'd read many picture books, I never realized how short they are—only around 500 words! It's challenging to tell a complete story in so few words, but I discovered that it's a challenge I enjoy.
Another challenge in writing picture books is that the author needs to have a sense of the book's visuals as they write, yet they can't hold too tightly to that vision. Picture books are a group project. The illustrator brings their own creativity and interpretation to the story and that ultimately makes the book better.
What topics does your book touch upon that would make it a perfect fit for the classroom?
I think the book's overall theme of facing fear and practicing courage is an experience that everyone can relate to, no matter their age. I hope that Sylvie's story will show readers that they're not alone if they're experiencing fear or anxiety and that it can be helpful to tell someone about those feelings—and as I wrote at the end of the book, that courage takes time and practice.