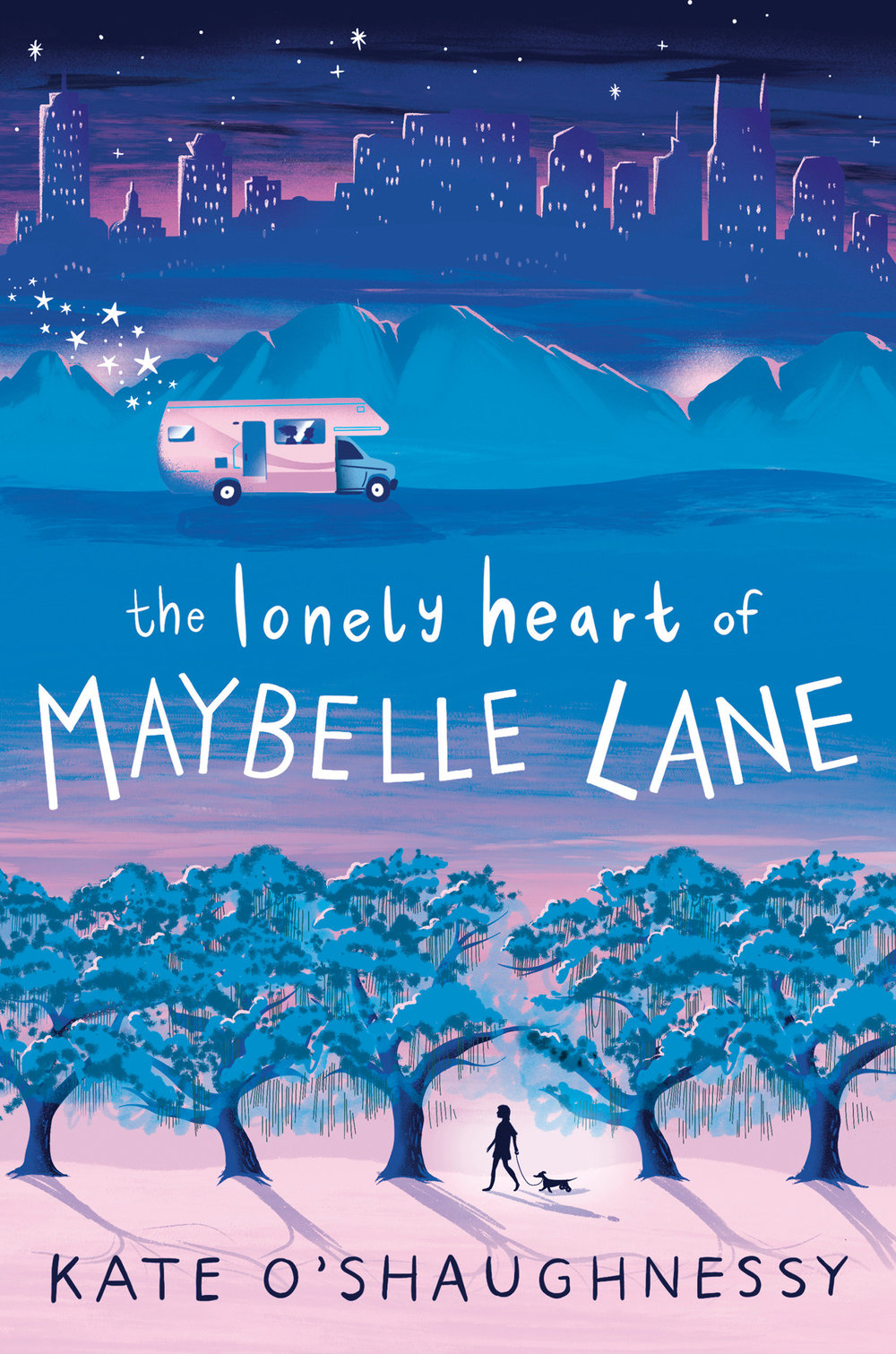 age range: 8-12 years
genre / topics : contemporary fiction; road trip, family
Kate O'Shaughnessy's website
Maybelle Lane finds courage she didn't know she had—and it's contagious. A rich and rewarding debut.
— Kirkus Reviews, starred review
Lyrical and full of heart, this road trip story gets to the core of what it means to create family, to be brave, and to accept the flaws of being human.
—Publishers Weekly, starred review
There is healing in this book, and laughter, and grace, and surprising love. Don't read it with a box of tissues—just cry, then smile and grow.
—Gary D. Schmidt, author of The Wednesday Wars, a Newbery Honor Winner
Please tell us about your book.
When 11-year-old Maybelle Lane finds out that her radio DJ father—who she's never met—is going to be judging a singing competition in Nashville, TN, she impulsively signs up as a contestant. Despite having a beautiful singing voice, there are two big problems: first, Maybelle has terrible stage fright. And second, she has no way of getting to Nashville without her mom finding out. But with the help of her neighbor and a stowaway classmate, Maybelle makes the journey to Tennessee—where she hopes she'll not only be able to win the competition, but also her father's heart.
What inspired you to write this story?
I'd say the biggest inspiration was emotional. I had just moved across the country from the east coast to California, away from my entire family. It had been a couple of months, and I didn't feel like I'd found my footing or my community in my new city. Basically, I was really lonely. And I'm also a big morning journaler. I write about anything that I want. Sometimes I write about my dreams, sometimes I doodle, something it's just a boring to-do list of tasks I have to get done that day, like "go to the post office and do a load of laundry." But one morning, Maybelle's voice just sort of… appeared. And I knew I wanted to know more about her. In the story, she moves away from her grandparents to a new place, and she has that same feeling of "I don't fit in here" loneliness that I had. 
Could you share with readers how you conducted your research or share a few interesting tidbits you learned while researching?
Research was one of the best parts of writing this book because I got to do something so fun: go on a road trip! I'm not from the South, and I felt that it was important that I got the details of the setting to feel as real as possible. So I decided to go on Maybelle's road trip! My sister was a senior in college at that time, and she joined me as co-pilot over her spring break. We took almost the exact same route that Maybelle takes in the story, except we started in New Orleans because the town of Davenport, Louisiana (where Maybelle lives) is fictional. It was so interesting because I spent so much time looking out the window—but not casually; I was really looking deeply. I took notes on sounds, smells, the way the roads curved, the plants, the kinds of signs I saw flashing by on the highway. While lots of things are fictional—like the hot dog restaurant and the hotel they stop at–lots of the details I noticed on my own road trip made it into the book. In my school visit presentation I like to make the point that research can be SO FUN if you are writing or studying something you really love. I love road trips, so I wrote a book about one—and got to go on a road trip as my form of research.
What topics does your book touch upon that would make it a perfect fit for the classroom?
Oh, I think there are lots of things! There's a lot of discussion about mental health and wellbeing in the book—Maybelle suffers from panic attacks and anxiety, Tommy has some serious issues with his home life, and Mrs. Boggs, the teacher, is also dealing with grief after losing someone she loves. I based Maybelle's panic attacks on my own experience with them, so I hope it will be an interesting window for students who don't suffer from anxiety and a mirror for those who do. There's also a big focus on sounds in this story, so I hope it can help students think about using their five senses in a new way. For example, Maybelle doesn't collect coins or sneakers or stickers—she collects sounds on a little recorder. She likes the quieter, more every day sounds, like doors swinging shut and crickets singing. I hope this story makes readers think about what sounds they would collect. What sounds are important to you in your life? What sounds make you feel happy, sad, or excited? I have my own list of meaningful sounds, but I always love hearing from readers about their sounds, too.