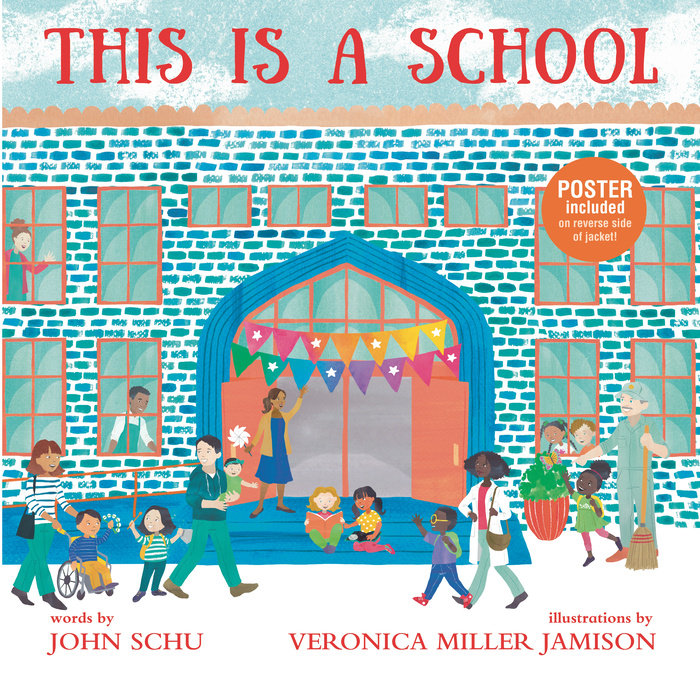 age range: 4-8 years
format: picture book
John Schu's website
Please tell us about your book.
Hello, Caroline! Thank you for celebrating This Is a School.
It's absolutely my pleasure!
This Is a School is a poem I wrote about the power of play, creativity, hope, helping, healing, sharing, learning, trust, and connection within a school community. I wrote it with the first month of school in mind. I hope it helps everyone on a school's campus discuss the journey they're about to take together. I hope they refer back to Veronica Miller Jamison's beautiful illustrations throughout the school year.
What inspired you to write this story?
The students I taught and experienced stories with around the world inspired This Is a School. I thought about Brook Forest Elementary School, Wexford Elementary School, and the International School of Amsterdam quite a bit while writing and revising the poem.
Could you share with readers an interesting tidbit about writing this book?
Fun fact: I wrote a lot of This Is a School inside the Free Library of Philadelphia. During school visits, I always share a photo of this room.
This space inspired me to write from my heart.
What topics does your book touch upon that would make it a perfect fit for the classroom?
I wrote This Is a School for the classroom and with teacher-librarians in mind. Teacher-librarians who read aloud stories that go directly from the heart to the classroom. Stories that help facilitate important and meaningful conversations. Stories that fill the school day with joy.
This Is a School touches upon how school is a place for discovery and asking questions. It is a place for sharing, for helping, and for community.
Thank you, Caroline!
Thank you, John, for all you do for young readers and authors alike.