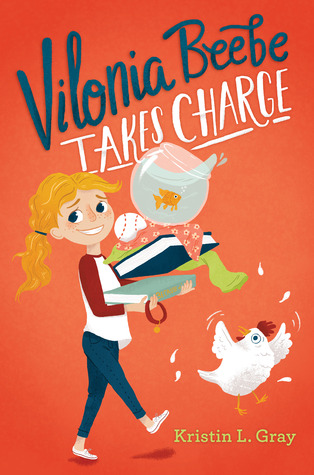 genre: contemporary fiction
age range: 8-12
Kristin L. Gray's website
[A] sensitive and uplifting coming-of-age journey…Debut author Gray brings Vilonia's small Mississippi town to vibrant life.
— Publishers Weekly
Vilonia narrates her story with a colloquial Mississippi twang, punctuating self-effacing descriptions of her well-meaning but oft ill-fated actions with worry about her mother, desire for a dog, and longing for her grandmother….A humorous, poignant, realistic debut story about a very responsible little girl who's a "force of nature."
— Kirkus Reviews
Please tell us about your book.
Vilonia Beebe Takes Charge is about a fourth grader whose Mama has come down with the Infinite Sadness after her mother (Vilonia's Nana) dies. And Vilonia knows just the thing that will cheer her Mama up: a dog. After all, pets can help people overcome grief. Vilonia has to prove she's responsible enough to adopt one first.
What inspired you to write this story?
Vilonia's a dog-lover and was born a preemie, like me. At first, I wanted her goal to be to adopt and care for a dog who was born premature like her. But after a quick talk with my vet tech, I realized that is probably not the story I really wanted to write. So I did some thinking and landed on pet therapy. It's newer and exciting, and I already had one scene with Nana written. So I simply explored what would happen if that scene with Nana had happened in the past.
Could you share with readers how you conducted your research or share a few interesting tidbits you learned while researching? 
I'm a sucker for research! I will research and research and never get around to the writing. It's my favorite form of procrastination as it tricks me into feeling like I'm doing real work. For Vilonia, I researched lots of animal facts: when are skunks old enough to spray, when do puppies first see and hear, and how high can chickens fly. You'll have to read the book to find out more about that. ☺
I also researched the differences between depression and grief and complicated grief.
What are some special challenges associated with writing middle grade?
My stories are realistic contemporary, and I hope whatever I write comes across as sensitive, authentic, and true. And that demands rewriting and more rewriting. I was still tweaking lines on the last possible day I could.
What topics does your book touch upon that would make it a perfect fit for the classroom?
I think all kids struggle with responsibility at one time or another, or the feeling they have taken on too much. Vilonia struggles with that too, though I hope in a funny, light-hearted way. It's okay to ask for help. It's okay to speak up. I think we all can learn to be more kind to ourselves.