In an effort to give readers a taste of MAY B., I'm sharing books with similar genres and themes. Today's topic: frontier stories. All descriptions are taken from Amazon.com.
The Long Winter – Laura Ingalls Wilder


The adventures of Laura Ingalls and her family continue as Pa, Ma, Laura, Mary, Carrie, and little Grace bravely face the hard winter of 1880-81 in their little house in the Dakota Territory. Blizzards cover the little town with snow, cutting off all supplies from the outside. Soon there is almost no food left, so young Almanzo Wilder and a friend make a dangerous trip across the prairie to find some wheat. Finally a joyous Christmas is celebrated in a very unusual way in this most exciting of all the Little House books.
Pioneer Girl: A True Story of Growing up on the Prairie – Andrea Warren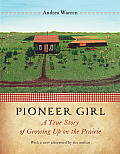 Pioneer Girl is the true story of Grace McCance Snyder. In 1885, when Grace was three, she and her family became homesteaders on the windswept prairie of central Nebraska. They settled into a small sod house and hauled their water in barrels. Together they endured violent storms, drought, blizzards, and prairie fires.
Despite the hardships and dangers, Grace loved her life on the prairie. Weaving Grace's story into the history of America's heartland, award-winning author Andrea Warren writes not just of one spirited girl but of all the children who homesteaded with their families in the late 1800s, sharing the heartbreaks and joys of pioneer life.
Dear America: Across the Wide and Lonesome Prairie – Kristiana Gregory

Thirteen-year-old Hattie Campbell records the details of her family's harrowing migration to Oregon in a covered wagon and describes the many challenges, both joyful and tragic, that mark the journey.
What are some frontier stories you've enjoyed?