As I was checking Sitemeter a few minutes ago, I noticed someone had come my way via the Chicago Courier News. Strange, huh? Well, I clicked over and found a post about my after-school book clubs (originally posted in October for Books on the Nightstand)!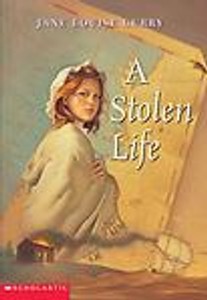 This afternoon: Off to discuss THE STOLEN LIFE by Jane Louise Curry.
From the back cover:  The year is 1758 and Jamesina Mackenzie has been living quietly in the Scottish highlands surrounded by her grandfather, aunts, and uncles. However, her father's death forces Jamesina to go into hiding. Disguised as a boy, she is sent to live with neighbors, but even this deception cannot keep her safe.
She is kidnapped by "spiriters," men who kidnap young people to sell as bond slaves to planters and farmers in America. Still in disguise, Jamesina must make her way through a strange new world — a world that takes her from a Virginia plantation to the mountains of Cherokee country and finally to a reunion with the family and friends she thought she'd lost forever.