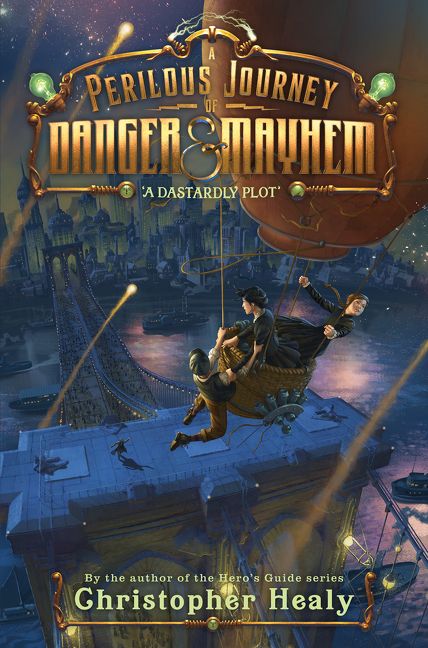 Christopher Healy developed a close personal relationship with research during his multi-year run as a magazine fact-checker. He has since moved on to writing his own works—such as the acclaimed Hero's Guide trilogy and his first work of historical fiction, A Perilous Journey of Danger & Mayhem—but he still sometimes finds himself mentally underlining the checkable facts in the stories he reads.
What typically comes first for you: a character? An era? A story idea? How do you proceed from there?
In my previous books, it has been a general story concept that gets me writing. But with Perilous Journey, which is my first foray into historical fiction, it was really the era that came first. I'd decided I wanted to do a "What if Jules Verne wrote middle grade?" concept—a Victorian sci-fi mystery with tween protagonists. But until I started researching the 1880s, I had no idea what that story would be, who the characters would be—nothing. This was an instance in which the research literally inspired the plot.
How do you conduct your research?
I take all sorts of different routes: Googling, reading, visiting museums (and annoying historians at those museums with follow-up email questions). But my favorite is actually photographic research. Once I had the 1880s as my setting, I spent hours poring over photos, advertisements, and artworks from that era. So many times an image would provide the seed for a scene or plot twist. And later on, when deep into the writing process, I'd be describing a location or character's clothing and my mind would veer back to details I'd seen in some photo or other. It was actually a painting of the Brooklyn Bridge's opening fireworks celebration that sparked the entire plot for this book. I saw that picture—with huge colorful explosions bursting all around that bridge—and thought to myself how awesome it would be to set a chase scene during that celebratory chaos.
How does your research continue once you begin writing?
I'm a big outliner. I tend to write in layers. The first will have very general, bullet-point basics—just the foundation of the story. Then I'll rewrite it with more details and connective tissue, then again with even more details, and so on and so on, fleshing out the story more and more each time until I have a full-fledged novel. With historical fiction, I find I do a new wave of research before each new layer. It's that new round of research that will provide many of the details for the next draft.
What is your favorite thing about research?
It's such a thrill to happen upon some intriguing historical tidbit that feels "undiscovered"—something that makes you go, "Wow, I don't think anybody really knows about this. But I can use it!" I had a number of those moments while researching Perilous Journey, but the big one, which became central to the book's entire plot, was the World's Fair That Never Was. I already knew I wanted to set my book in 1883 (because I wanted that Brooklyn Bridge celebration in there), so I began looking up other events from that year. That's when I discovered that there was a World's Fair that was supposed to be held in New York's Central Park in 1883—but that, for some reason, it never took place. So I wrote a book about that missing World's Fair.
What's your least favorite thing about research?
As exciting as it is to discover some nugget of "forgotten" history for your book, it's equally frustrating to find a super-cool historical tidbit that you just know would work so awesomely in your book, only to then discover that the timeframe is off. Then you have to stew over whether or not you should mess with the real timeline just to include some fun little story element.
Has your research ever affected the overall thrust of your book? How so?
This goes back to what I was saying about doing a new wave of research between drafts. I already had the main thrust of my story plotted out and was already a couple layers into the writing process when I learned about the Chinese Exclusion Act of 1882. I couldn't believe A) That I'd never learned about it before, and B) How relevant it was to the immigration debates of today. I felt at that point that I needed to incorporate the Exclusion Act into my novel—not just because of the echo to modern times, but also because it would have felt disingenuous to the time period to ignore it. That's how one of the major characters in Perilous Journey became a Chinese immigrant. It was a change that necessitated a lot of other changes throughout—not just in this book, but subsequent volumes of the series as well. But it's one of those times where the extra work felt totally worth it.