For children's author Claudia Friddell, discovering exciting stories from long ago is a lot like treasure hunting. A former teacher, Claudia loves to share her journeys and joys of bringing history to life through books with students, teachers, and history lovers of all ages. When she's not visiting schools, digging for treasure in the library, or writing at her home in Baltimore, Claudia is reading, walking, and kayaking on Maryland's Eastern Shore.
What is your favorite thing about writing narrative nonfiction for young readers?
I love sharing a bit of history with readers that inspires them to think—Wow! I didn't know that. I want to learn more! There are so many true, yet forgotten stories, about everyday people who have made heroic contributions to our world. Many of these stories are just as amazing as any fictional adventure. As a former elementary teacher, I saw how well-told, beautifully illustrated nonfiction picture books can inspire students to get excited about history and can motivate them to learn more about fascinating people and events from our shared past. That's what I aspire to do as an author.
What sources do you use for your books?
I usually start out reading every book and article I can find about my subject. Whenever possible, I try to include the actual words of my main characters in the text. In my upcoming book, To the Front!: Clara Barton Braves the Battle of Antietam, I wove Clara's lyrical words from her journals and speeches with mine to bring this historic day to life for young readers. I spent lots of time in libraries scrolling through rolls of microfilm to find those words, but also had the convenience of finding source material online through the Library of Congress.
Newspaper interviews and editorials have been important primary sources for my books as well. In Saving Lady Liberty: Joseph Pulitzer's Fight for the Statue of Liberty, I spent a lot of time in the New York Public Library archives to locate Pulitzer's powerful editorials from his newspaper, The World. His passionate words inspired thousands of Americans to donate money to the pedestal fund for the Statue of Liberty.
While I love finding and sharing the actual words of my characters, my absolute favorite sources are personal interviews with their relatives. Because I write books about people who lived long ago, finding their relatives isn't always possible! While researching Grace Banker and Her Hello Girls Answer the Call, I met Grace's granddaughter, Carolyn Timbie. Finding her was like striking gold! Carolyn was so generous to share a copy of her grandmother's diary with me. Reading Grace's exciting account of her experiences as the leader of these pioneering women convinced me to tell their story through Grace's eyes. It was such an honor to spend time with Carolyn at her family lakeside cabin, one of the places Grace loved most in her later years. There, Carolyn shared family memories and guided me through a treasure trove of her grandmother's WWI keepsakes. Hopefully, weaving her diary entries into the text made Grace and her telephone operators more relatable for young readers. Having the input and feedback from family members is invaluable!
How does your research continue once you begin writing?
This is a great question! I think some people are surprised to hear that the research continues throughout the entire writing and publication journey. Of course, it always begins as a treasure hunt when I'm searching for my story. This is when the greatest focus is placed on research. After I've begun my writing process, it is often necessary to go back and dig deeper into my sources to enrich my story and its characters or to verify the facts in my book. When I have personal sources, I often revisit them while I'm writing to ask new questions.
Once the story is finished, there is still a lot of research to do to thoroughly complete the back matter. For me, the back matter is just as important as the text of the story. It's important for a nonfiction book to provide easily accessible supplemental information—a fingertip library— for teachers and librarians.
Even after the back matter is complete and the book is in the copy editing stage, there are still opportunities for research. My amazing editor, Carolyn Yoder, and the copy editors at Calkins Creek keep me on my toes to make sure all my facts are correct and the information in my back matter is current even after I've finished my book. For example, in the time between Saving Lady Liberty's completion and its publication, one of the replica statues of Lady Liberty cited in my back matter had been moved to a new location. I needed to go back and make that change just before the book went to the printer. It's a small detail, but it's important to keep checking for accuracy through the final copy edits. When writing nonfiction, the research never ends.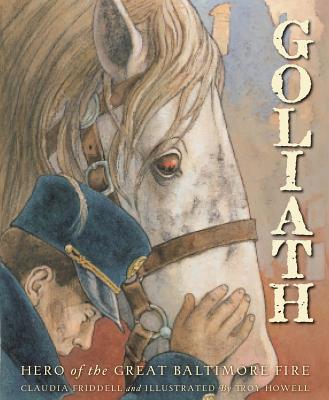 What are some challenges in writing narrative nonfiction?
One of the greatest challenges in writing narrative nonfiction for young readers is finding a kid-friendly way to bring complicated real-life stories and historical events to life for young readers. For children to care about history, they must feel connected to people who lived in a very different time and place. I'm always looking for ways to make my characters relatable and their accomplishments inspiring for today's readers.
Another challenge is crafting story arcs for real-life characters and events that read like fiction. For example, in my first book, Goliath, Hero of the Great Baltimore Fire, the fire horse Goliath performs his heroic rescue at the very beginning of the fire. It took a while for me to find a way to tell Goliath's story without packing all the suspense into the first few pages!
What are some of the most interesting things you've learned while researching?
First, I'll give a few examples of facts I learned that were so interesting, they inspired me to write books about them:
In Saving Lady Liberty, I learned that if not for Pulitzer's relentless efforts to raise money for Lady Liberty's pedestal, this iconic national monument would not be standing in New York Harbor today. Before my research, I never knew that the pedestal was funded by the combined coins of everyday Americans across the country and built by immigrants.
While writing Grace Banker, I discovered that the very first unit of women in the U.S. Army were telephone operators. After their telephone skills helped win the war, they had to battle the U.S. government for sixty more years to gain their veteran status.
In To the Front! I was interested to learn that Clara Barton was one of the first women granted permission to assist on a battlefield. I was surprised that she had no formal training as a nurse. And while she is recognized as one of the world's most remarkable humanitarians—few people know she was also a beautiful writer!
In researching my book Road Trip! (forthcoming in August 2022), I learned that Thomas Edison, Henry Ford, Harvey Firestone, and John Burroughs pioneered the very first recreational camping trips.
And, just for fun, here are a few interesting facts I learned on my researching treasure hunts that make great trivia questions:
The New York City celebration for Lady Liberty's unveiling on October 28, 1886, sparked the very first ticker tape parade. Office boys on Wall Street (who did not have the day off) threw ticker tape from their windows in celebration.
The World Series is named for Joseph Pulitzer's newspaper the World—the sponsor for the American baseball tournaments. 
Clara Barton and Frederick Douglass were close friends who worked together in the fight for civil rights for the formerly enslaved, African Americans, and women. 
And, for the inventors out there: Henry Ford invented the 'kitchen on wheels' car, and Thomas Edison invented string lights to add enjoyment and convenience to their campsites.
Heads up!
Today is the last day for Barnes and Noble's 25% pre-order campaign. Claudia's Road Trip! and To the Front! qualify, as do my books Miraculous and Jasper and the Riddle of Riley's Mine (paperback release coming in June). No more waiting! Click through and use code PREORDER25.