Julie Berry is the author of the acclaimed young adult novel The Passion of Dolssa
, the award-winning, All the Truth That's in Me 
(2013, Viking) and The Scandalous Sisterhood of Prickwillow Place
(2014, Roaring Brook), and six other critically acclaimed titles for young readers. She grew up in western New York and holds a BS from Rensselaer in communication and an MFA from Vermont College in writing for children and young adults. Before becoming an author, she worked in software sales and marketing. She now lives in southern California with her husband and four sons. Find her online at www.julieberrybooks.com, or on Twitter.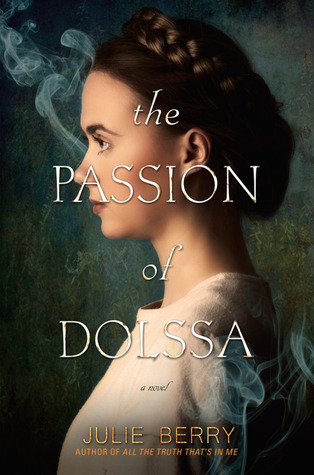 What typically comes first for you: a character? An era? A story idea? How do you proceed from there?
For The Passion of Dolssa, both character and era came first, or rather, both found me independently. For a long time I'd been fascinated by the brave young women mystics of the Middle Ages. I had wanted to explore them more in some kind of project. Quite separately, I thought it would be fun to write a main character who was a matchmaker. In yet another corner of my brain, an idea rolled around about a group of three sisters, witches in a very small sense of the word, running a tavern (although young). In another disconnected vein of my life, I was taking a history of the Middle Ages course, where I learned for the first time about the violent history of anti-heresy warfare and inquisition in southern France in the 13th Century. Then one day I had a sort of eureka moment where all of these separate strands braided themselves together as one story idea. And I was off and running.
How do you conduct your research?
Muddlingly. I try to immerse myself as much as I can in books about, and written during, that time period. One of the most important things, I find, is determining which are the most credible, current, trusted academians whose books will best help you unravel the complex past. History (the study of the past, as opposed to the past itself) is anything but monolithic and unanimous. Our study and understanding of our past is constantly changing. So I think it's vital to be a critical consumer of historical sources, and pay close attention to choosing well whom to trust. Once I know what I'm looking for, it's often a hunt to acquire rare or out-of-print titles that I need. I try to read as much as I can that was written during that time period, also, so I can hear the voices and language of the time (filtered through the lens of who's doing the writing – too often it's only the elite and the empowered). I generally need to read my important sources twice.
In addition to lots of reading, I spend a lot of time with maps and museum resources, trying to see as much as possible what the world I envision actually looked like. I look for music historians who can help me hear their nearly lost tunes, and for historically based cookbooks so I know what ingredients they had and how they cooked. I'm chasing down all sorts of things like when would the sun have set at that latitude at this date, and what did they eat/wear/shoot/burn/drive/marry, etc.. Best of all, whenever possible, I try to go to the location where my story takes place. I need to absorb the sense of place as much as my senses allow me to. 
You do have a specific system for collecting data?
I fear I don't have a specific system for anything in my life. ☺ "Dive in and muck around" is pretty much my approach.
At what point do you feel comfortable beginning to draft? How does your research continue once you begin writing?
I usually write in tandem with the research. I'm quite comfortable making changes later as I need to. But I think getting to know a character and getting to know her world can happen in tandem, so long as you're willing to make painful changes if needed. For example, if you reach a point where you realize that your character has attitudes or opinions she couldn't possibly have had at that place and time, you have to be willing to perform radical character surgery. But that said, I find that I can hum along on both tracks. Writing a rough first draft as I research helps me focus my inquiries onto things I actually need to know.
What is your favorite thing about research?
Oh, I could just stay right in the research rabbit-hole and never come out. I love, love, love the learning. At first, all the strange names and places are generally bewildering. Most complex historical texts will introduce you to a long list of players in the drama of the past, and it's a lot to keep track of. In my last book, just about every man, no lie, was named Raimon. "Everyone's Named Raymond," basically. So the magic, for me, is when I've studied enough and taken enough notes to reach the point where it's all clicking. I remember who's who and where's where and why it all matters. When I can coherently explain it to someone else in detail, then I know I'm ready to make a good story with it. It feels terrific to reach the peak of that mountain.
What are some obstacles writing historical fiction brings?
The pill that was hardest for me to swallow, but most necessary, is accepting that fact that no matter how hard I work to be accurate, I can't ever be fully accurate in my depiction of the past. This is because, no matter how I try to understand their world, their beliefs, their cultural context, I can't stop myself from being someone who looks at it from the anachronistic perspective of their future. I am looking back. I know how their story ends. And I'm a child of a different planet, so to speak. The past is a country I've never visited, nor can I. Even the most devotedly researched book remains a work of artifice, of pretend, of illusion. So, in a sense, the hardest part of this job is that you know from the get-go that you'll fail. Art comes into play as you accept those limitations and reach toward the ideal of truth, beautifully if possible, anyway.
What's one of the most interesting things you've learned while researching?
Stuff that's generally unprintable. 😉
Why is historical fiction important?
I'm not sure how many people would ever decide to study the past, preserve it for future generations, and distill what it has to teach us, if they didn't learn to care about it, somewhere along the line. I think historical fiction, especially the highest quality historical fiction for young readers, helps link young minds to the past through the caring they come to feel for real and fictitious characters, now dead. The hallmark of good fiction is how it tells the truth and enables empathy. By pointing that understanding and caring toward the past, we help young people – not just the future historians, but future thinkers of every kind – see themselves as heirs of a tremendous legacy and the forebears of a hopeful future. In other words, as a part of, but not the center of, humanity.
Click through to sign up for my quarterly newsletter and you'll receive a free printable from my novel, Blue Birds. Enjoy!