Miss the introductory or discussion posts for Volume I? Need the reading schedule for the entire read along? Click through!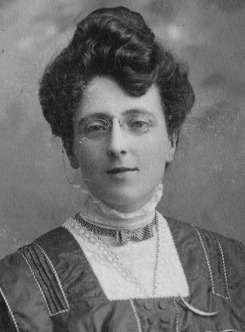 Volume II covers the years 1910-1921 and picks up with thirty-five year-old Maud still living in her childhood home caring for her grandmother, as she had for over a decade. Though she was a best selling author, life was very much the same (ANNE OF GREEN GABLES, published in 1908, had already gone into numerous print runs and brought her $7,000 in royalties early in 1910 — "an enormous figure in a province where the average yearly income for a working woman was less than $300").
Major change was ahead: her grandmother's death (March 1911); marriage to Ewan MacDonald, who had been engaged to Maud since 1906 (July 1911); a European honeymoon; a move to Leaksdale, Ontario, where she set up her first home and stepped into the role of minister's wife; and the birth of her two boys (1912 and 1915 — Maud lost another son to stillbirth in 1914).
The journal also covers Maud's agony over the first World War, a whirlwind trip to Boston to meet her unscrupulous editor with the L. C. Page Company, the discovery of her husband's mental illness, and the further facing of her own.
More and more, her journal became a place of escape, "a secret release for her thoughts," a rich resource for writing material, a source of companionship, "a rich record of motherhood," and an honest glimpse into "the life of a working writer."
I picked up Volume II a few weeks ago and am happily settled back in with Maud. For those of you reading, I look forward to hearing what you've taken from your readings when we meet for our discussion post on April 29. If you're finding yourself behind schedule, it's no big deal. Read in a way you can enjoy, and if you feel so inclined, come back at a later date to read posts you've missed.
For those of you not reading, it has been wonderful to hear your enthusiasm for and interest in these posts in person, via email, and in comments. I'm glad you're able to get a sense of Maud's life through what's being shared here.
Remember, throughout the month I post quotess on Twitter (#lmmjournals) and on my May B. Facebook page. Happy reading, and please spread the word!
The work for which we are fitted — which we are sent into this world to do — what a blessing it is and what fulness of joy it holds! 
— Lucy Maud Montgomery, May 23, 1910