'Tis the season for critique partner debuts!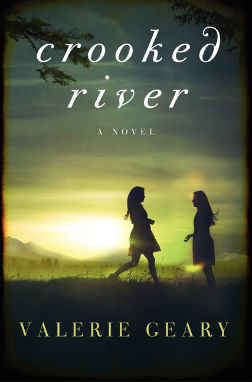 Last month we celebrated Kate Bassett's Words and Their Meanings
. Now it's time to cheer on Valerie Geary and her Crooked River. It's been especially thrilling to watch these two talents find their agents, sell their books, and then release them into the world just a few weeks apart. Val and Kate have been instrumental in my own writing process. Here's a little glimpse into CROOKED RIVER and the way the three of us work together.
Before I hand things over to Val, though, I want to share that Crooked River made November's Indie Next list. It's that good.
Tell us about your book.
Still grieving the sudden death of their mother, Sam and her younger sister Ollie McAlister move from the comforts of Eugene to rural Oregon to live in a meadow in a teepee under the stars with Bear, their beekeeper father. But soon after their arrival, a young woman is found dead floating in Crooked River, and the police arrest their eccentric father for the murder.
Fifteen-year-old Sam knows that Bear is not a killer, even though the evidence points to his guilt. Unwilling to accept that her father could have hurt anyone, Sam embarks on a desperate hunt to save him and keep her damaged family together. Ollie, too, knows that Bear is innocent. The Shimmering have told her so. One followed her home from her mom's funeral and refuses to leave. Now, another is following Sam. Both spirits warn Ollie: the real killer is out there, closer and more dangerous than either girl can imagine.
Crooked River is my first novel, a coming of age story and a page-turning mystery that I hope will touch readers' hearts and keep them up past their bedtime.
What is it like to work with two other writers you've never met in person?
I was in a local writer's group for a short time, and while it was nice meeting in person to talk life and writing, it was also incredibly awkward to have to sit there and listen as my group members picked apart my chapters. There was very little time and no space to consider what they were saying, and for me it ended up being this horrible emotional roller coaster that did more harm than good. 
My socially anxious personality tends to fit better with a virtual writer's group. Whenever I'm ready, I send Caroline and Kate part or all of my manuscript. They take their time reading it and then they send the manuscript back with their notes attached. There's less pressure this way, and a lot of distance, a feeling of detachment. Revision is all about setting aside what you think a story should be and really seeing it for what it is so that you can figure out what's working and what's not and why. During this stage, it's important to be as objective as we can with our own work, and the best way I've found to do this is by not having my critique partners in the room while I consider their feedback. There's no one around watching, or judging, or expecting things from me. No one for me to try and justify, defend, or explain my choices. It's just me alone with my manuscript and their notes, finding a way to a better story.
That said, there are definitely times when I just want to go grab a cup of coffee and talk shop with my friends. Or pop by their house with a plate of cookies when they're having a hard day. We can't do this because of the distance, and that's something I miss.
How often do you read for each other? Do you respond differently as a manuscript progresses? If so, how?
As long as I'm not pushing up against a deadline, I'll read as often as Kate and Caroline need me to. I've read their manuscripts at various stages of development. When I read early drafts, I tend to look more for big picture problems like pacing, story arc, and character development. As the drafts progress, if I'm asked to read again, I still keep big picture things in mind, but I also edit for details, oddly worded sentences, grammar errors, and typos. At every stage, too, I try and point out things I love, beautiful phrases, sections that make me hold my breath or shed a tear, characters that steal my heart. Drawing attention to where a story already shines is just as important as pointing out where it might need a little more elbow grease. 
Beyond critiquing manuscripts, how else do you support one another?
In this business, there are highs and lows, good days, bad days. When I need to vent, when I want to celebrate, when I feel like a sham, when I read an interesting article, when I need encouragement, when I have stupid questions, when I need someone to tell me I'm not going crazy, or a safe place to be myself, or someone to bounce ideas off of, I go to Caroline and Kate first. No one understands the strange life of a writer better than other writers. 
What is something you've learned from your critique partners?
Perserverence, courage, resilience. 
Also, that I overwrite more often than underwrite. Thanks to Caroline and Kate's keen eyes and wicked red pens, I'm more aware now of the places in my manuscripts where the prose gets wordy or redundant. Of course, I don't catch everything–I still need them to help me trim the fat.
And finally…
One thing I always remind Caroline and Kate (or anyone else who asks me to critique their writing) is this: At the end of the day, it's your story. So take the feedback that rings true to you and throw out the rest.
I feel like this is good life advice, too.